Visitor group usage viewer for EPiServer 8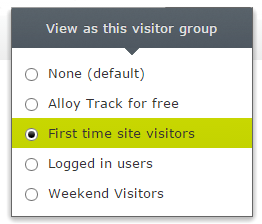 EPiServer visitor groups are a great feature and allow editors to personalise content for end users. EPiServer also has the capability for editors to preview content for certain visitor groups when viewing a page. This is a powerful capability as editors can see how the content will look when its been personalised for end users. However when a lot of visitor groups are enabled on a site its sometimes difficult for editors to work out which ones are used on a piece of content and to pick the right visitor groups to preview with.
So I decided to create a visitor group usage gadget that will help editors see what visitor groups are used on piece of content in EPiServer.