Cookie visitor group criteria for Episerver 11
Dec 07, 2017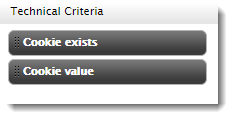 A new version of the cookie visitor group criteria is now available on the Episerver Nuget feed that is compatible with Episerver 11.
The package adds two new visitor groups called "Cookie exists" and "Cookie Value Equals". These visitor groups allow your site editors to personalise content based on whether a cookie exists or on the value contained within a cookie.
How do I get it?
It's available on the EPiServer Nuget feed and is compatible with Episerver 11.
The following changes have been made in version 11:
Compatible with Episerver 11
Version jump to v11 to keep parity with major Episerver versions
Feedback
If you have any feedback, issues or ideas please let me know in the comments below or on @davidknipe.
---
Comments